Manufacture of photovoltaic modules
A French industrial production driving innovation
With its ISO 9001, 14001 and 45001-certified subsidiary REDEN Industries, REDEN benefits from its own photovoltaic module manufacturing plant in France.
Located in the heart of south-west France, REDEN Industries has an annual production capacity of 65 MWp and can develop innovative, state-of-the-art photovoltaic solutions that can be adapted to the specific needs of each project.
To stay at the cutting edge of technology, REDEN has recently invested in a new-generation industrial tool. By 2024, this will enable us to at least triple our production of photovoltaic modules to around 300,000 panels a year, representing a capacity of around 200 MW/year.
The various control points throughout the manufacturing process ensure a high-quality and performance product over the long term.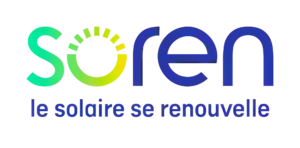 REDEN Industries ensures that its production is optimally recycled
REDEN Industries is a member of SOREN, a non-profit eco-organisation recognised by the French Ministry of Ecological Transition, which collects and then recycles damaged photovoltaic panels up to 95% of their components.
As part of its broader responsibility as a producer of photovoltaic modules, REDEN has moreover become a collection point for SOREN, facilitating the recycling of all PV modules in the region.
As for the other countries where REDEN is present, a constant and driven effort is made to find the appropriate recycling partners, so that each defective module can ultimately be offered a second life.
Did you know?
A photovoltaic panel barely loses 0.4% of its electricity production capacity per year (provided it is properly maintained).
After 30 years of life, the panel will accordingly still produce no less than 88% of its initial capacity.
With its virtuous lifecycle, photovoltaics is the most competitive energy in economic terms!