Manufacture of photovoltaic modules
REDEN COVERS THE ENTIRE DEVELOPMENT CYCLE OF A PHOTOVOLTAIC ENERGY PRODUCTION FACILITY
The group provides seamless management at each stage of a project's development, from the initial studies through to the start-up and maintenance of its power plants, both in France and abroad. And once the lease proposal has been signed, REDEN takes care of all technical, economic and administrative procedures, as well as obtaining a building permit and purchase rate.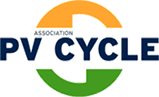 REDEN Industries guarantees optimised recycling in its production process.
REDEN Industries is a member of PV Cycle, a non-profit eco-organisation recognised by the French Ministry for ecological and inclusive transition, which collects and recycles used photovoltaic panels. More than 95% of a photovoltaic module is recycled.
As part of its broader responsibility as a producer of photovoltaic modules, REDEN Industries has become a collection point for the organisation, facilitating the recycling of all modules.